Hello everyone, let's check out this news!
This year, one of our lab member, Faisal Amri (M2), participated in Asia-Oceania Geoscience Society (AOGS) 16th Annual Meeting as a poster presenter. The meeting took place in Suntec City, Singapore from 28th July to 2nd August. This annual meeting was a great opportunity for our lab to introduce what we are doing to international researchers society and for future purpose, some collaborations between researchers might be started from this kind of event. 🙂
He presented his research titled: "Regional Scale CO2 System Modeling in Coral Triangle Area: Preliminary Result" which was part of OS-15 (Regional Oceanic Numerical Modeling and Observations) session.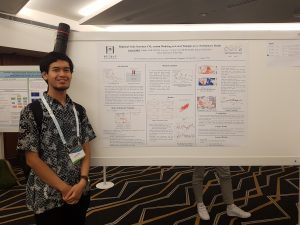 Amri and his research poster
There were many earth scientists attended the meeting and Amri considered this conference as one of the biggest scientific conferences that he ever attended (More than 25 sessions covering solid earth, ocean, and atmospheric science). In addition, what made this event memorable for him is that he found many interesting findings regarding regional-scale dynamics in his study area and he believed it could help him to understand the mechanism that may influence the CO2 system dynamics. 
Here are some researchers that he met at the conference
Robin Robertson, one of the most well-known ocean modeler and has been using ROMS (Regional Ocean Modeling System) for many years
Yusuke Uchiyama, a professor from Kobe University which has interest regarding Indonesia seas circulation system
Tony Lee, a researcher in NASA and also a key person in SMAP (Soil Moisture Active Passive)  project 
Agus S Atmadipoera, a researcher from Bogor Agricultural University which published many papers about Indonesia seas dynamics such as upwelling
And many more~
Next AOGS 17th Annual Meeting will be held in Vivaldi Ski Resort, South Korea.  If you were interested, do not forget to check for the updates! 😀